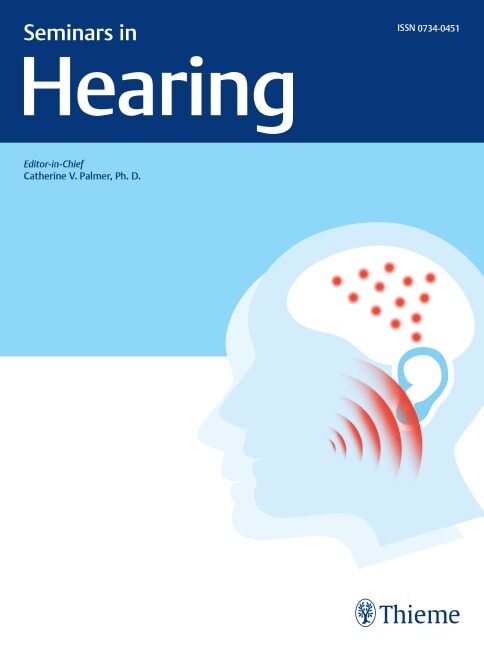 Seminars in Hearing
ISSN:

0734-0451

Medientyp:

Fachzeitschriften

Ausgaben:

4 pro Jahr

Sprache:

Englisch

Volume:

44
Produktinformationen Seminars in Hearing
Subscribe today and receive up to 20% off your first year's subscription! Applies for Individuals only.
Seminars in Hearing is a quarterly review journal that publishes topic-specific issues in the field of audiology including areas such as hearing loss, auditory disorders and psychoacoustics.
The journal presents the latest clinical data, new screening and assessment techniques, along with suggestions for improving patient care in a concise and readable forum. Technological advances with regards to new auditory devices are also featured. The journal's content is an ideal reference for both the practicing audiologist as well as an excellent educational tool for students who require the latest information on emerging techniques and areas of interest in the field.
Abstracting and indexing:
Biological Abstracts, BIOSIS, CINAHL, EMBASE, Excerpta Medica, PubMed Central, and SCOPUS, EBSCO, ProQuest

Individual Rates: Personal subscription orders can only be placed by individuals and must include the recipient's name and personal address. Must be for individual use only and paid for by personal funds of the individual. Only qualified professionals and students are eligible for individual subscriptions.
For institutional subscriptions, please contact Institutional Sales for pricing at:
In US, Canada, South and Central America, please contact esales@thieme.com.
In Europe, Asia, Africa and Australia, please contact eproducts@thieme.de.
Please read our complete Terms of Trade for journal subscription policies.
Journal subscribers will receive a separate invoice and confirmation for your subscription order with taxes broken down separately as applicable and appropriate for your region.
Table of Contents:
https://www.thieme-connect.com/products/ejournals/journal/10.1055/s-00000067