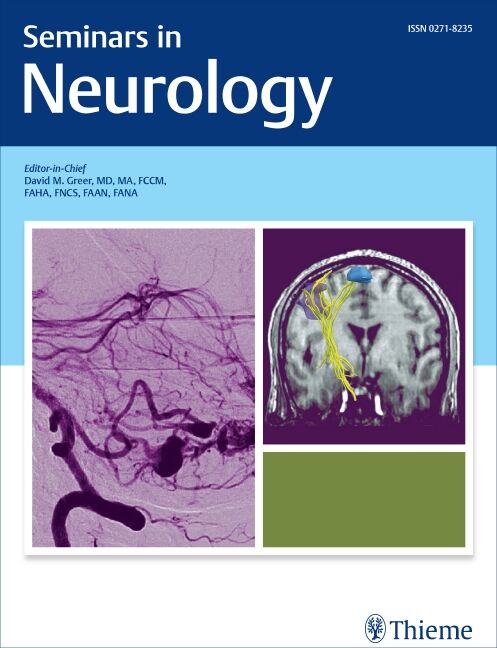 Seminars in Neurology
ISSN:

0271-8235

Media Type:

Journals

Issues:

6 per year

Language:

English

Volume:

42
*Prices include shipping costs.
Product information Seminars in Neurology
Subscribe today and receive up to 20% off your first year's subscription! Applies for Individuals only.
Journal Scope
Seminars in Neurology is a review journal on current trends in the evaluation, diagnosis, and treatment of neurological diseases. Areas of coverage include multiple sclerosis, central nervous system infections, muscular dystrophy, neuro-immunology, spinal disorders, strokes, epilepsy, motor neuron diseases, movement disorders, higher cortical function, neuro-genetics and neuro-ophthalmology. Each issue is presented under the direction of an expert guest editor, and invited contributors focus on a single, high-interest clinical topic.
Up-to-the-minute coverage of the latest information in the field makes this journal an invaluable resource for neurologists and residents.
Impact Factor 2022: 2.7

Abstracting and indexing:
Journal Citation Reports (JCR), Emerging Sources Citation Index (ESCI), Biological Abstracts, BIOSIS, Current Contents/Clinical Medicine, EMBASE, Excerpta Medica, Index Medicus, MEDLINE, Neuroscience Citation Index, Research Alert, Scopus, Scisearch, EBSCO, ProQuest
Individual Rates:
Personal subscription orders can only be placed by individuals and must include the recipient's name and personal address. Must be for individual use only and paid for by personal funds of the individual. Only qualified professionals and students are eligible for individual subscriptions.
Please read our complete Terms of Trade for journal subscription policies.

Journal subscribers will receive a separate invoice and confirmation for your subscription order with taxes broken down separately as applicable and appropriate for your region.
Frequently asked questions
What is an e-book?
An e-book is the electronic edition of a printed book that is available as a file.
The content does not differ from the printed edition of the book. Thieme offers electronic books in PDF and EPUB formats.

What formats are there and how do they differ?
Thieme offers electronic books in PDF and EPUB formats.
The PDF format corresponds 1:1 to the printed book and has a fixed page layout. It is therefore ideal for computers, tablets and larger e-readers.
E-books in EPUB format adapt dynamically to the display size of the reading device. It is therefore particularly suitable for smaller devices such as smartphones and small-format tablets and e-readers.
Do I need a special program to open the e-book?
Free reading programs for e-books are available for all operating systems and reading devices: for PDFs, for example, Adobe Acrobat Reader, for EPUBs, for example, Adobe Digital Editions.
How does the download work?
You will find a download link on the order confirmation page and in your order confirmation email. Click on this link to start the download and save the file in a directory of your choice.
Can I read the e-book on multiple devices?
Yes, you can use your e-book on multiple reading devices.
Do I have to be online to read e-books?
No, after downloading to your reading device you can access the e-book offline at any time.
Are Thieme e-books copy-protected?
Yes, e-books are protected by a digital watermark. This means that there are no restrictions for you when using them.
Am I allowed to lend or sell e-books?
E-books are for private use only and may not be lent or sold.
Am I allowed to exchange or return the e-book?
Due to their nature, e-books are not suitable for return. Just like downloads of other electronic files (films, music or software), e-books are excluded from the right of withdrawal. A return or exchange is therefore not possible.
For institutional subscriptions, please contact Institutional Sales for pricing at:
Please read our complete Terms of Trade for journal subscription policies.