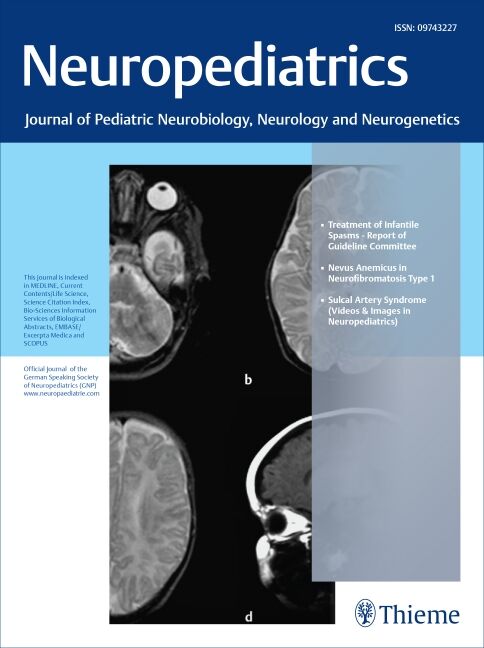 Neuropediatrics
ISSN:

0174-304X

Media Type:

Journals

Issues:

6 per year

Language:

English

Volume:

54
Product information Neuropediatrics
Subscribe today and receive up to 20% off your first year's subscription! Applies for Individuals only.
The editorial team of Neuropediatrics is pleased to announce a new section, the Resident & Fellow section (R&F). Please click here for more info.
Click on the Awards tab above to learn about the Honorary Award of the German Speaking Society of Neuropediatrics (GNP).
For key insights into today's practice of pediatric neurology, Neuropediatrics is the worldwide journal of choice. Original articles, case reports and panel discussions are the distinctive features of a journal that always keeps abreast of current developments and trends - the reason it has developed into an internationally recognized forum for specialists throughout the world.
Pediatricians, neurologists, neurosurgeons, and neurobiologists will find it essential reading.
Good reasons to subscribe:
1. Up-to-date information on cutting edge topics
2. Developments, techniques and topical research
3. Rigorous, independent peer-reviewing system
4. International and esteemed Editorial Board
5. Free online access to the journal with individual subscriptions

IMPACT FACTOR 2021: 1.696
Abstracting and indexing:
MEDLINE, Current Contents/Life Sciences, Science Citation Index, Bio-Sciences Information Services of Biological Abstracts, EMBASE/Excerpta Medica, SCOPUS, Emerging Sources Citation Index (ESCI), EBSCO, ProQuest

Individual Rates: Personal subscription orders can only be placed by individuals and must include the recipient's name and personal address. Must be for individual use only and paid for by personal funds of the individual. Only qualified professionals and students are eligible for individual subscriptions.
For institutional subscriptions, please contact Institutional Sales for pricing at:
In US, Canada, South and Central America, please contact esales@thieme.com.
In Europe, Asia, Africa and Australia, please contact eproducts@thieme.de.
Please read our complete Terms of Trade for journal subscription policies.
Journal subscribers will receive a separate invoice and confirmation for your subscription order with taxes broken down separately as applicable and appropriate for your region.
As publisher of the journal Neuropediatrics, Thieme is the proud sponsor of the Honorary Award of the German speaking Child Neurology Society. This award is made annually by the Society for Neuropediatrics (GNP) to a high-ranking scientist with special merits in the field of child neurology. Each year a winner is selected by the society and invited to give the Honorary Award of the German speaking Child Neurology Society Lecture during the annual conference of the GNP. Following the award ceremony, winners also publish an article based on their lecture in Neuropediatrics.
2019 Honorary Award of the German speaking Child Neurology Society:
Prof. Dr. Marc Tardieu
Born in Paris in 1949, Marc Tardieu qualified as physician in 1975, as pediatrician in 1979, and then spent 2 years (1980–82) specializing in neurovirology at Harvard Medical School. During this time period, he was also working at immunology and virology laboratories in France, Belgium, and Canada. Back in Paris, he was working as a neuropediatrician at the Hôpitaux Universitaires Paris Sud where he became Chef de Clinique Assistant en Neuropédiatrie and Chef de service de Neurologie pédiatrique in 1996. He also headed the INSERM (Institut national de la santé et de la recherche médicale) neurovirology research unit (1982–92) and the neurovirology and immunology laboratory (1992–96) at the Paris Sud Medical School. He received numerous awards, such as the Prime d'excellence scientifique (2006–2009, renouvellée 2010–2014), the Chevalier des palmes académiques (2013), and the McKeith Guest conference British Pediatric neurology association (2014), and he is honorary member of the European Pediatric Neurology society. Furthermore, Tardieu has served on the scientific committees of patient groups focused on Rett's syndrome, opsoclonus–myoclonus syndrome, and lysosomal diseases, and others.
2016 Honorary Award of the German speaking Child Neurology Society:
Prof. Dr. med. Ingeborg Sophie Krägeloh-Mannu
Director of Pediatric Neurology at the University of Tübingen, Germany
With this award, the Society wants to honor Prof. Inge Krägeloh-Mann, a distinguished clinician scientist who devoted all her professional life to children and their families, children with complex, and chronic neurologic disorders. In 1995, she was appointed as full Professor at the Technical University Munich (Pediatric Neurology), and in 1997, she returned to the Eberhard Karl's University Tübingen, appointed as Medical Director succeeding Richard Michaelis. In her scientific fields of interest, Prof. Inge Krägeloh-Mann has been more than successful. Her name is on the big papers on cerebral palsy. In this field, she has more than 200 publications. With some 50 publications, neurometabolism takes the second most important place and a further more than 40 publications are proof of her broad medical competence and interests. In addition, she has written many standard book chapters as well as knowledgeable and impacting editorials.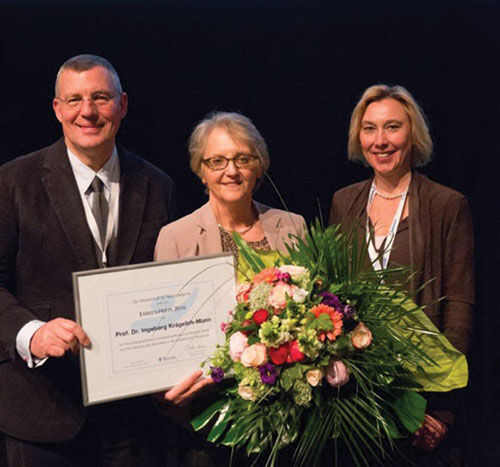 2015 Honorary Award of the German speaking Child Neurology Society:
Prof. Linda de Vries
Department of Neonatology, Wilhelmina Children's Hospital and Brain Center Rudolf Magnus, University Medical Center Utrecht, Utrecht, The Netherlands
Since 2010, Linda de Vries is Chair of Neonatal Neurology at the University of Utrecht and adjunct professor in neonatal neurology at the University of California, San Francisco. For her research and visionary work, she has received several international recognitions as the honorary membership of the American Pediatric Society and has been invited for the McCance Lecture of the British Neonatal Society and the Harwood Nash memorial lecture of the University of Toronto. During the 2015 GNP conference in Basel, the audience heard a brilliant lecture on the progress of neonatal neuroimaging over the past decades. The content of this lecture is outlined in a review article by Linda de Vries and coauthors published in Neuropediatrics.
It is a great honor to welcome Prof. Linda de Vries as an awardee. The audience has been impressed by her academic and pure personality as well as by her utmost expertise and dedication not only to science but also to patients and their families.
To read Prof. de Vries' review article, please click on the following link:
Progress in Neonatal Neurology with a Focus on Neuroimaging in the Preterm Infant
Linda S. de Vries, Manon J. N. L. Benders, Floris Groenendaal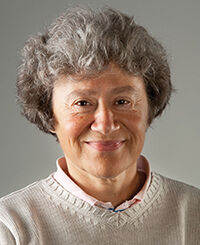 2014 Honorary Award of the German speaking Child Neurology Society:
Dr. Pasko Rakic
Yale University
The award is presented to honor Dr. Rakic's ground-breaking discoveries on the development of the cortex, which form the basis for today's understanding of many neuropediatric disorders, especially of cortical malformations.
2013 Honorary Award of the German speaking Child Neurology Society:
Prof. Ingrid Scheffer
Pediatric Neurologist and Professor at the Florey Institute of Neuroscience and Mental Health and The University of Melbourne, Australia
Having been trained as a child neurologist in Australia and London and having received her PhD in Melbourne, Australia, Prof. Ingrid Scheffer is a clinical researcher in the very best sense, stressing the permanent importance of clinical phenotyping and translation of research findings into our everyday practice. Her visionary approach and systematic work have been acknowledged with numerous awards, among them the L'Oréal-UNESCO Awards for Women in Science of 2012. This award especially highlights the active role of Prof. Ingrid Scheffer in promoting and guiding young women for research and to enable the "double carrier" as being mother and scientist in one life.
We want to thank and congratulate Prof. Scheffer for her scientific achievements and will proudly add her name to the list of Honorary Award of the German speaking Child Neurology Society awardees.
To read Prof. Scheffer's review article, please click on the following link:
Epilepsy Genetics Revolutionizes Clinical Practice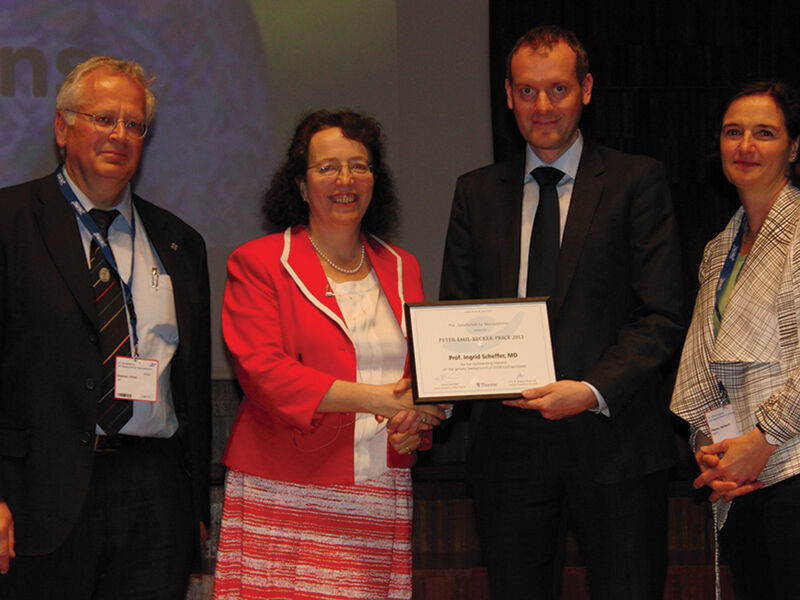 2012 Honorary Award of the German speaking Child Neurology Society:
Prof. Masaya Segawa
Director of the Segawa Neurological Clinic for Children in Tokyo, Japan
In 1970, Prof. Segawa was the first to describe an inherited form of childhood-onset dystonia in nine patients out of six unrelated families. From his clinical observation of marked diurnal fluctuation and response to low-dose ʟ-dopa therapy, the entity was coined Segawa syndrome. In 1994 Prof. Segawa and his research group identified the underlying defect by describing autosomal dominant mutations of the GTPCH gene. For his outstanding lifetime work, Prof. Segawa holds several awards, including the prize of the Japanese Pediatric Society in 2011, the Congress Award of the 15th International Congress on Parkinson's Disease and Movement Disorders, and the Best Child Neurologist Award donated at the International Child Neurology Congress 2010.
We are delighted that Prof. Segawa has accepted this award, and to add him to the distinguished list of Honorary Award of the German speaking Child Neurology Society winners.