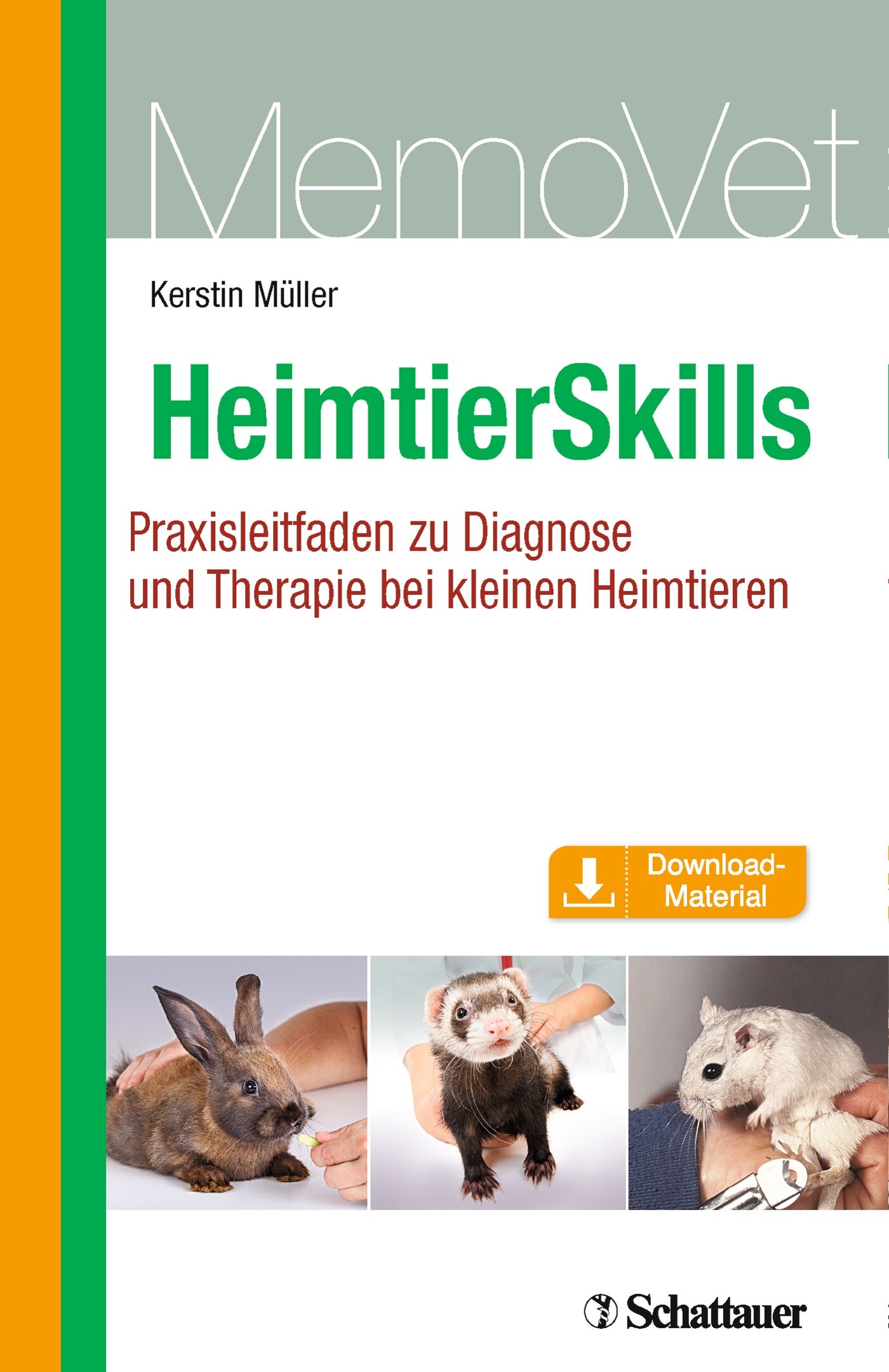 HeimtierSkills
Praxisleitfaden zu Diagnose und Therapie bei kleinen Heimtieren MemoVet
Edition:

1 2017

Details:

528 pages, 96, 49 ill., Broschiert (KB)

ISBN:

9783794531110

Media Type:

Book

Language of text:

German
€ 44.99* [D]
€ 46.30* [A]
Product information HeimtierSkills
Die "HeimtierSkills" bieten Ihnen die wichtigsten Fakten zur Heimtiermedizin: übersichtlich, praxisbezogen und zum schnellen Nachschlagen – von Handling und Diagnostik über Therapiegrundsätze und Anästhesie bis hin zu Notfällen und chirurgischen Maßnahmen. Die Autorin verfügt über langjährige Erfahrung mit Heimtierpatienten sowie in der Aus- und Fortbildung und kennt die speziellen Fragestellungen und Besonderheiten. Sie beschreibt die problemorientierte differenzialdiagnostische Aufbereitung anhand der häufigsten Leitsymptome und zeigt darüber hinaus einen nach Tierarten gegliederten Überblick über Krankheiten und Therapie. Von Maus und Hamster über Chinchilla und Gerbil bis hin zu Kaninchen, Meerschweinchen und Frettchen liefert dieses Buch besonders praxisrelevante Handlungsanweisungen für den Umgang mit diesen Patienten und deren Erkrankungen. Dies wird abgerundet durch viele nützliche Tipps und Tricks sowie übersichtliche Tabellen zu biologischen Daten, Referenzwerten und Medikamenten. Ein wertvoller Begleiter im Kitteltaschen-Format, sowohl für Kleintierpraktiker als auch für Studierende!
Frequently asked questions
What is an e-book?
An e-book is the electronic edition of a printed book that is available as a file.
The content does not differ from the printed edition of the book. Thieme offers electronic books in PDF and EPUB formats.

What formats are there and how do they differ?
Thieme offers electronic books in PDF and EPUB formats.
The PDF format corresponds 1:1 to the printed book and has a fixed page layout. It is therefore ideal for computers, tablets and larger e-readers.
E-books in EPUB format adapt dynamically to the display size of the reading device. It is therefore particularly suitable for smaller devices such as smartphones and small-format tablets and e-readers.
Do I need a special program to open the e-book?
Free reading programs for e-books are available for all operating systems and reading devices: for PDFs, for example, Adobe Acrobat Reader, for EPUBs, for example, Adobe Digital Editions.
How does the download work?
You will find a download link on the order confirmation page and in your order confirmation email. Click on this link to start the download and save the file in a directory of your choice.
Can I read the e-book on multiple devices?
Yes, you can use your e-book on multiple reading devices.
Do I have to be online to read e-books?
No, after downloading to your reading device you can access the e-book offline at any time.
Are Thieme e-books copy-protected?
Yes, e-books are protected by a digital watermark. This means that there are no restrictions for you when using them.
Am I allowed to lend or sell e-books?
E-books are for private use only and may not be lent or sold.
Am I allowed to exchange or return the e-book?
Due to their nature, e-books are not suitable for return. Just like downloads of other electronic files (films, music or software), e-books are excluded from the right of withdrawal. A return or exchange is therefore not possible.