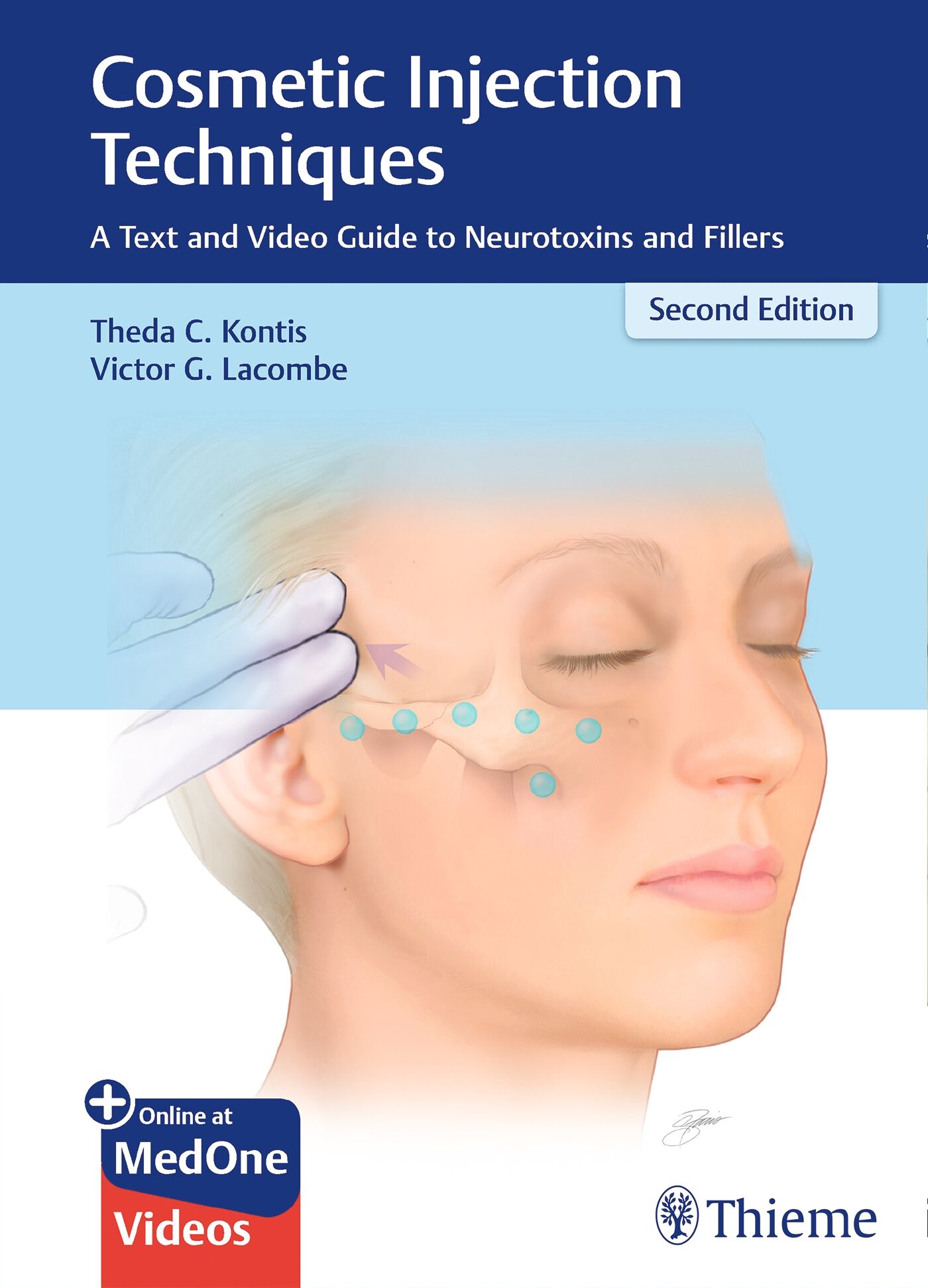 Cosmetic Injection Techniques
A Text and Video Guide to Neurotoxins and Fillers
Edition:

2 2019

Details:

226 pages, 127 ill., Hardback (Thread Stitching)

ISBN:

9781626234574

Media Type:

Book

Copy protection:

Digital watermarking

Language of text:

English
€ 104.99* [D]
€ 108.00* [A]
Product information Cosmetic Injection Techniques
The quintessential guide to state-of-the-art cosmetic injection approaches, from two renowned experts!
This revised and updated second edition of Cosmetic Injection Techniques: A Text and Video Guide to Neurotoxins and Fillers by esteemed facial plastic surgeons Theda Kontis and Victor Lacombe builds on their bestselling first edition. Content is designed to augment knowledge of beginner injectors and train veteran injectors on how to finesse facial fillers and muscle-relaxing injections. Since publication of the first edition, understanding of the aging face has increased, while the number of non-surgical facial enhancements has continued to skyrocket. The book's primary focus is the improvement of minor facial irregularities and asymmetries using the latest injection procedures.
Divided into six sections and four appendices, the book starts with the patient consultation and concludes with a new section on fat-dissolving techniques using Kybella. The fillers section features new chapters on choosing the right filler, fine lines and skin boosters, the de Maio technique, the mandibular angle, poly-l-lactic acid for the décolleté, and gender-specific injections. All chapters follow a reader-friendly, consistent format with succinct paragraphs covering indications, injection techniques, anatomic considerations, precautions, risks, pearls, illustrations or photos, and additional reading. Select chapters reflect North American techniques utilized by the authors that vary from East Coast to West Coast.
Key Highlights
Precise, full-color illustrations by Sarah Faris afford a detailed look at underlying anatomy
75 superb short video clips narrated by Dr. Kontis provide procedural guidance
A section dedicated to neurotoxin injections details the use of neuromodulators such as Botox and Dysport, with new chapters on neurotoxins for the décolleté and profusely sweating forehead
A full spectrum of facial augmentation, rejuvenation, and volumization techniques are described, using hyaluronic acid fillers, hyaluronidase, Sculptra, Radiesse, BellaFill, and others
Appendix A lists chapters by degree of difficulty, enabling injectors to safely advance to more challenging injection techniques
This is the essential quick-reference guide on injection techniques. Plastic surgeons, cosmetic surgeons, dermatologists, nurse injectors, and physician assistant/nurse practitioner injectors who wish to increase their knowledge of injection methods and refine skills will greatly benefit from this outstanding, easy-to-use manual.
This print book includes complimentary access to a digital copy on https://medone.thieme.com.
Publisher's Note: Products purchased from Third Party sellers are not guaranteed by the publisher for quality, authenticity, or access to any online entitlements included with the product.
Frequently asked questions
What is an e-book?
An e-book is the electronic edition of a printed book that is available as a file.
The content does not differ from the printed edition of the book. Thieme offers electronic books in PDF and EPUB formats.

What formats are there and how do they differ?
Thieme offers electronic books in PDF and EPUB formats.
The PDF format corresponds 1:1 to the printed book and has a fixed page layout. It is therefore ideal for computers, tablets and larger e-readers.
E-books in EPUB format adapt dynamically to the display size of the reading device. It is therefore particularly suitable for smaller devices such as smartphones and small-format tablets and e-readers.
Do I need a special program to open the e-book?
Free reading programs for e-books are available for all operating systems and reading devices: for PDFs, for example, Adobe Acrobat Reader, for EPUBs, for example, Adobe Digital Editions.
How does the download work?
You will find a download link on the order confirmation page and in your order confirmation email. Click on this link to start the download and save the file in a directory of your choice.
Can I read the e-book on multiple devices?
Yes, you can use your e-book on multiple reading devices.
Do I have to be online to read e-books?
No, after downloading to your reading device you can access the e-book offline at any time.
Are Thieme e-books copy-protected?
Yes, e-books are protected by a digital watermark. This means that there are no restrictions for you when using them.
Am I allowed to lend or sell e-books?
E-books are for private use only and may not be lent or sold.
Am I allowed to exchange or return the e-book?
Due to their nature, e-books are not suitable for return. Just like downloads of other electronic files (films, music or software), e-books are excluded from the right of withdrawal. A return or exchange is therefore not possible.