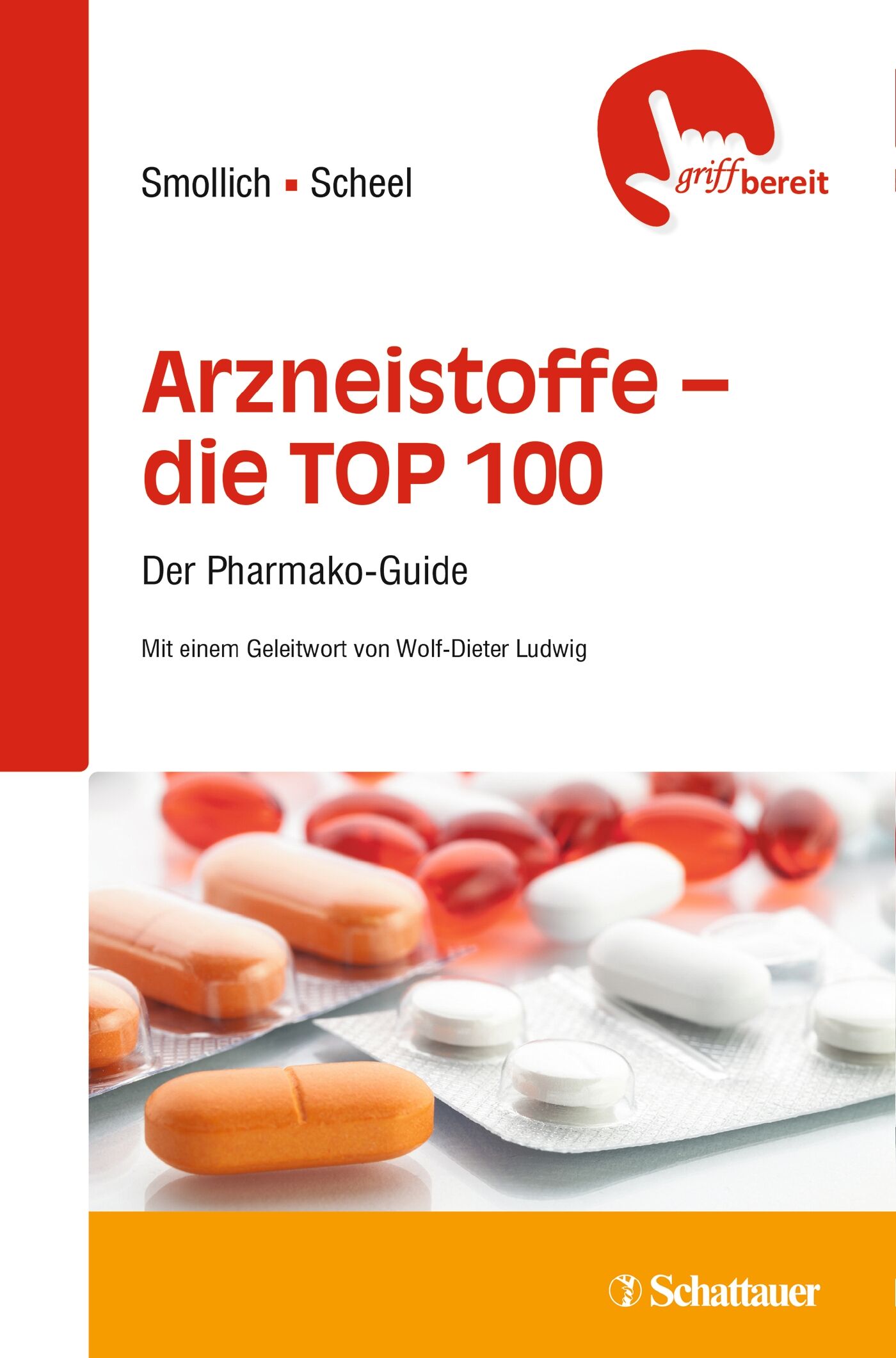 Arzneistoffe TOP 100
Der Pharmako-Guide
Edition:

1 2015

Details:

600 pages, Broschiert (KB)

ISBN:

9783794530410

Media Type:

Book

Language of text:

German
€ 29.99* [D]
€ 30.90* [A]
Product information Arzneistoffe TOP 100
Ihr Pharmako-Guide für die effiziente Therapie in Praxis und Klinik! Das Ziel: - Optimale Arzneimitteltherapie auch für spezielle Patientengruppen und Therapiesituationen (verschiedene Lebensalter, Schwangerschaft und Stillzeit, geschlechterspezifische und ethnische Besonderheiten, Komorbiditäten) durch die richtige Wahl eines "passgenauen" Wirkstoffs. - Bestmöglicher Therapieerfolg und maximale Arzneimitteltherapiesicherheit durch Vermeiden unerwünschter Wirkungen. Der Weg – schlagen Sie nach in Ihrem Pharmako-Guide: - Die 100 verordnungshäufigsten Wirkstoffe auf Basis aktueller GKV- und PKV-Daten: mit allen klinisch relevanten Eckdaten, anwendungsorientierten Hinweisen, evidenzbasierter Wirkstoffbeurteilung, in alphabetischer Sortierung. - Äquivalenzdosis-Übersichten für den Aut-simile-Austausch zu den 8 wichtigsten Wirkstoffgruppen: für den optimalen ambulant-stationären Patientenübergang. Die Details: - Exakt auf die Praxis abgestimmt: erhöhte Therapiesicherheit bei geriatrischen Patienten (PRISCUS, Beers), Berücksichtigung pädiatrischer Aspekte und spezieller Therapieanforderungen (u.a. Leber-, Niereninsuffizienz), wichtige Einnahmehinweise und Patienteninfos, Cave-Check für potenzielle Arzneimittelrisiken, notwendige (begleitende) Kontrolluntersuchungen, geeignete Alternativen bei fehlendem Ansprechen oder Wirkstoffunverträglichkeit, klinisch bedeutsame Nebenwirkungen. - Rasche Orientierung im Praxisalltag: vorangestellte First-Sight-Profile zu jedem Wirkstoff mit evidenzbasierter Anwendungsempfehlung, übersichtliche tabellarische Darstellung mit Icons, alphabetische Sortierung. - Polypharmazie-Aspekte im Blick: Fokussierung auf die klinisch relevanten Wechselwirkungen, Darstellung der wichtigsten Cytochrom-P450-Interaktionen. - Evidenzbasierte Entscheidungsgrundlage: Wirksamkeit, Nutzen-Risiko-Bewertung und vergleichende Wirkstoffbeurteilung aufgrund aktuellster Studienlage. - Gezielte Wirkstoffauswahl: mit den 100 verordnungshäufigsten Wirkstoffen die Arzneimitteltherapie im allgemeinmedizinischen und internistischen Alltag abdecken.
Frequently asked questions
What is an e-book?
An e-book is the electronic edition of a printed book that is available as a file.
The content does not differ from the printed edition of the book. Thieme offers electronic books in PDF and EPUB formats.

What formats are there and how do they differ?
Thieme offers electronic books in PDF and EPUB formats.
The PDF format corresponds 1:1 to the printed book and has a fixed page layout. It is therefore ideal for computers, tablets and larger e-readers.
E-books in EPUB format adapt dynamically to the display size of the reading device. It is therefore particularly suitable for smaller devices such as smartphones and small-format tablets and e-readers.
Do I need a special program to open the e-book?
Free reading programs for e-books are available for all operating systems and reading devices: for PDFs, for example, Adobe Acrobat Reader, for EPUBs, for example, Adobe Digital Editions.
How does the download work?
You will find a download link on the order confirmation page and in your order confirmation email. Click on this link to start the download and save the file in a directory of your choice.
Can I read the e-book on multiple devices?
Yes, you can use your e-book on multiple reading devices.
Do I have to be online to read e-books?
No, after downloading to your reading device you can access the e-book offline at any time.
Are Thieme e-books copy-protected?
Yes, e-books are protected by a digital watermark. This means that there are no restrictions for you when using them.
Am I allowed to lend or sell e-books?
E-books are for private use only and may not be lent or sold.
Am I allowed to exchange or return the e-book?
Due to their nature, e-books are not suitable for return. Just like downloads of other electronic files (films, music or software), e-books are excluded from the right of withdrawal. A return or exchange is therefore not possible.