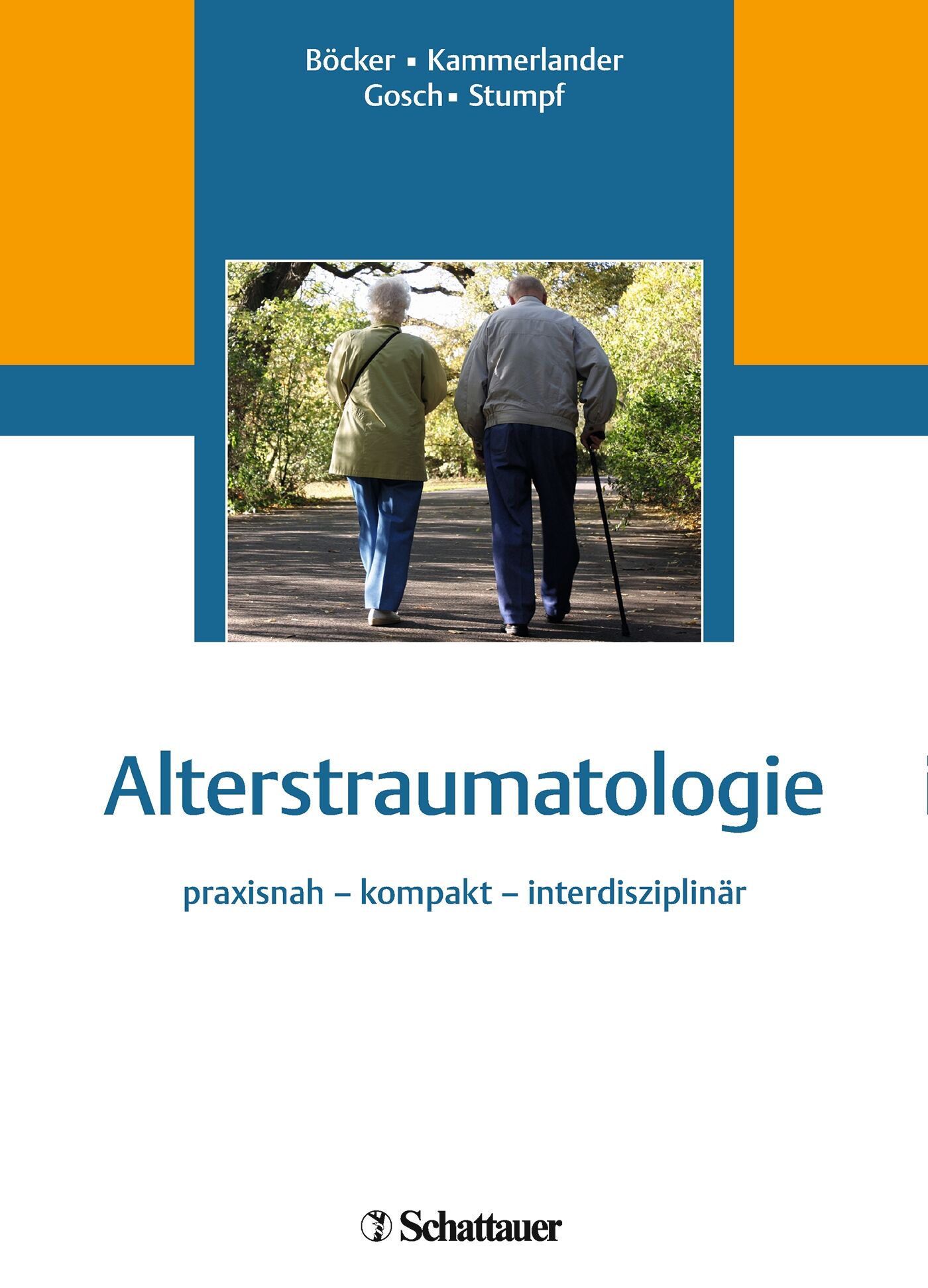 Edition:

1 2018

Details:

216 pages, 201 ill., gebunden (FH)

ISBN:

9783132422124

Media Type:
Copy protection:
Language of text:

German
€ 52.99* [D]
€ 52.99* [A]
Product information Alterstraumatologie
Fundierte Entscheidungshilfe bei komplexen Frakturen im Alter Komplizierte Beckenfraktur, assoziiert mit Osteoporose, Multimorbidität oder Polypharmazie – wie gehen Sie das an? Wie beugen Sie einem Delir vor? Wie klären Sie demenziell erkrankte Patienten auf? Geriatrische Patienten sind auf ein interdisziplinäres Team angewiesen. Mit "Alterstraumatologie" finden Sie den Schlüssel zu einem erfolgreichen ortho-geriatrischen Co-Management - für die beste Therapieentscheidung! Für Chirurgen. Erkennen Sie die Gesamtsituation einschließlich Komorbiditäten des Patienten. Verschaffen Sie sich einen Überblick über Implantate, Techniken und operative Strategien, vom Standardverfahren bis hin zu komplizierten Verläufe. Für Geriater. Überblicken Sie die Operationsverfahren und die chirurgischen Nachbehandlungskonzepte. Alles, was Ihr klinischer Alltag mit alterstraumatologischen Patienten erfordert: - Praxisnah: zahlreiche Kasuistiken zu Grenzfallentscheidungen und Implantatversagen, Assessment und wichtige Scores in der Geriatrie, spezielle geriatrische Nachbetreuung (Frühkomplexbehandlung, Fracture Liaison Services). - Kompakt: operative und konservative Optionen zu allen alterstypischen Frakturen, prä- und postoperative To-do-Checklisten. - Interdisziplinär: renommierte Fachexpertise aus Orthopädie/Unfallchirurgie und Geriatrie, individuelle interdisziplinäre Fallvorstellungen mit Fragen und Antworten.
Frequently asked questions
What is an e-book?
An e-book is the electronic edition of a printed book that is available as a file.
The content does not differ from the printed edition of the book. Thieme offers electronic books in PDF and EPUB formats.

What formats are there and how do they differ?
Thieme offers electronic books in PDF and EPUB formats.
The PDF format corresponds 1:1 to the printed book and has a fixed page layout. It is therefore ideal for computers, tablets and larger e-readers.
E-books in EPUB format adapt dynamically to the display size of the reading device. It is therefore particularly suitable for smaller devices such as smartphones and small-format tablets and e-readers.
Do I need a special program to open the e-book?
Free reading programs for e-books are available for all operating systems and reading devices: for PDFs, for example, Adobe Acrobat Reader, for EPUBs, for example, Adobe Digital Editions.
How does the download work?
You will find a download link on the order confirmation page and in your order confirmation email. Click on this link to start the download and save the file in a directory of your choice.
Can I read the e-book on multiple devices?
Yes, you can use your e-book on multiple reading devices.
Do I have to be online to read e-books?
No, after downloading to your reading device you can access the e-book offline at any time.
Are Thieme e-books copy-protected?
Yes, e-books are protected by a digital watermark. This means that there are no restrictions for you when using them.
Am I allowed to lend or sell e-books?
E-books are for private use only and may not be lent or sold.
Am I allowed to exchange or return the e-book?
Due to their nature, e-books are not suitable for return. Just like downloads of other electronic files (films, music or software), e-books are excluded from the right of withdrawal. A return or exchange is therefore not possible.