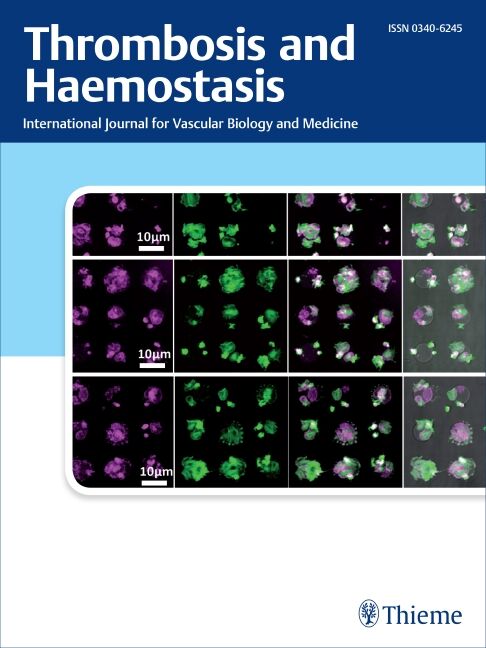 Thrombosis and Haemostasis
ISSN:

0340-6245.5

Medientyp:

Fachzeitschriften

Ausgaben:

12 pro Jahr

Sprache:

Englisch

Volume:

122
Produktinformationen Thrombosis and Haemostasis
Subscribe today and receive up to 20% off your first year's subscription! Personal subscriptions only.
Thrombosis and Haemostasis publishes reports on basic, translational and clinical research dedicated to novel results and highest quality in any area of thrombosis and haemostasis, vascular biology and medicine, inflammation and infection, platelet and leukocyte biology, from genetic, molecular & cellular studies, diagnostic, therapeutic & preventative studies to high-level translational and clinical research. The journal provides position and guideline papers, state-of-the-art papers, expert analysis and commentaries, and dedicated theme issues covering recent developments and key topics in the field.
Thrombosis and Haemostasis provides a forum for the exchange of ideas and concepts fostering cross-disciplinary insights in basic and clinical research. The journal is published monthly in print and online via Thieme E-Journals. It is covered in the main abstracting and indexing services worldwide. Thrombosis and Haemostasis is accompanied by TH Open, an Open Access journal for original basic research and clinical studies, review articles, letters to the editor, and case reports in vascular biology and medicine.

IMPACT FACTOR 2021: 6.83
Abstracting and indexing:
Medline, SCOPUS, EMBASE, Web of Science, ProQuest (SciSearch), Research Alert, CNKI Scholar, Current Contents - Clinical Medicine, Current Contents - Life Sciences, Science Citation Index (SCI), Science Citation Index Expanded (SCIE), BIOSIS Previews, EBSCO, ProQuest
Official Organ of:
Thrombosis - ESC Working Group
Atherosclerosis and Vascular Biology - ESC Working Group
Sociedad Española de Trombosis y Hemostasia
Australian Vascular Biology Society
Gesellschaft für Thrombose- und Hämostaseforschung e.V.

Individual Rates: Personal subscription orders can only be placed by individuals and must include the recipient's name and personal address. Must be for individual use only and paid for by personal funds of the individual. Only qualified professionals and students are eligible for individual subscriptions.
For institutional subscriptions, please contact Institutional Sales for pricing at:
In US, Canada, South and Central America, please contact esales@thieme.com.
In Europe, Asia, Africa and Australia, please contact eproducts@thieme.de.
Please read our complete Terms of Trade for journal subscription policies.
Journal subscribers will receive a separate invoice and confirmation for your subscription order with taxes broken down separately as applicable and appropriate for your region.