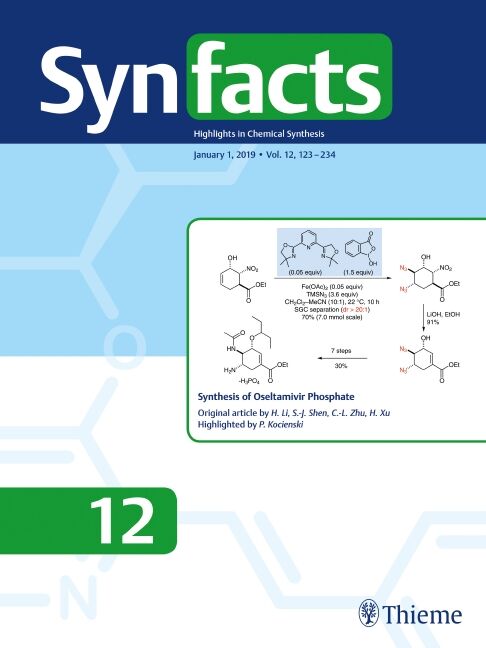 Synfacts
ISSN:

1861-1958

Medientyp:

Fachzeitschriften

Ausgaben:

12 pro Jahr

Sprache:

Englisch

Volume:

19
Students/scholars who wish to subscribe to this journal can do so here.
Produktinformationen Synfacts
Subscribe today and receive up to 20% off your first year's subscription! Applies for Individuals only.

In SYNFACTS current research results in synthetic organic chemistry, as they appear in the primary literature, are screened, selected, evaluated, summarized, and enriched with personal comments by experts in their fields. The aim of SYNFACTS is to inform readers monthly in a concise manner of the most significant recent developments and future trends in synthetic chemistry in order to maintain the practicing chemist at the forefront of latest development.

SYNFACTS addresses the needs of synthetic chemists in academia (including students) and industry. SYNFACTS will help readers to know, learn, and think more about their own field as well as neighboring disciplines. SYNFACTS will stimulate the reader's research and the development of exciting new ideas. With the highquality presentation of each individual summary, SYNFACTS is also aiming to support teaching and lecturing activities as well as examination preparation.



SYNFACTS offers the reader summaries of the current most significant results from the primary literature in the following thematic categories:

Synthesis of Natural Products and Potential Drugs
Synthesis of Heterocycles
Synthesis of Materials and Unnatural Products
MetalCatalyzed Asymmetric Synthesis and Stereoselective Reactions
MetalMediated Synthesis
Organo and Biocatalysis
PolymerSupported Synthesis
Individual Rates: Personal subscription orders can only be placed by individuals and must include the recipient's name and personal address. Must be for individual use only and paid for by personal funds of the individual. Only qualified professionals and students are eligible for individual subscriptions.

For institutional subscriptions, please contact Institutional Sales for pricing at:
In US, Canada, South and Central America, please contact esales@thieme.com.
In Europe, Asia, Africa and Australia, please contact eproducts@thieme.de.
Please read our complete Terms of Trade for journal subscription policies.
Journal subscribers will receive a separate invoice and confirmation for your subscription order with taxes broken down separately as applicable and appropriate for your region.