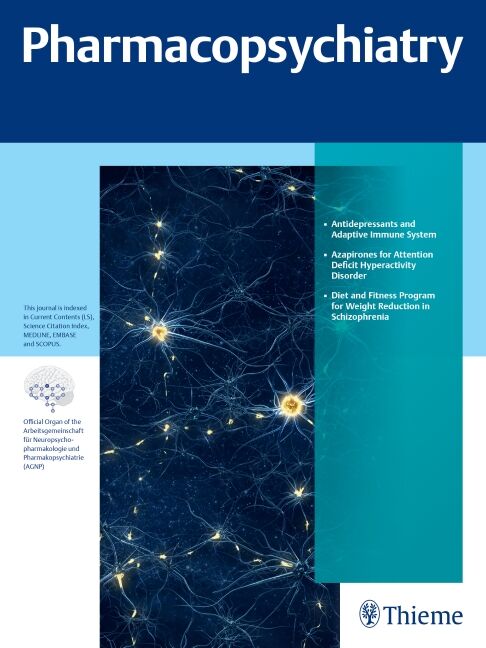 Pharmacopsychiatry
ISSN:

0176-3679

Medientyp:

Fachzeitschriften

Ausgaben:

6 pro Jahr

Sprache:

Englisch

Volume:

56
Produktinformationen Pharmacopsychiatry
Subscribe today and receive up to 20% off your first year's subscription! Applies for Individuals only.
Covering advances in the field of psychotropic drugs, Pharmacopsychiatry provides psychiatrists, neuroscientists and clinicians with key clinical insights and describes new avenues of research and treatment. The pharmacological and neurobiological bases of psychiatric disorders are discussed by presenting clinical and experimental research.
Includes sections on:
- Basic/translational/clinical psychopharmacology
- Biological psychiatry
- Neuroimaging and neurophysiology
- Basic and clinical neurosciences
- Biological psychology
- Pharmacogenetics

IMPACT FACTOR 2021: 2.544
Abstracting and indexing:
Current Contents (LS), Science Citation Index, MEDLINE, EMBASE, SCOPUS, EBSCO, ProQuest



Individual Rates: Personal subscription orders can only be placed by individuals and must include the recipient's name and personal address. Must be for individual use only and paid for by personal funds of the individual. Only qualified professionals and students are eligible for individual subscriptions.
For institutional subscriptions, please contact Institutional Sales for pricing at:
In US, Canada, South and Central America, please contact esales@thieme.com.
In Europe, Asia, Africa and Australia, please contact eproducts@thieme.de.
Please read our complete Terms of Trade for journal subscription policies.
Journal subscribers will receive a separate invoice and confirmation for your subscription order with taxes broken down separately as applicable and appropriate for your region.