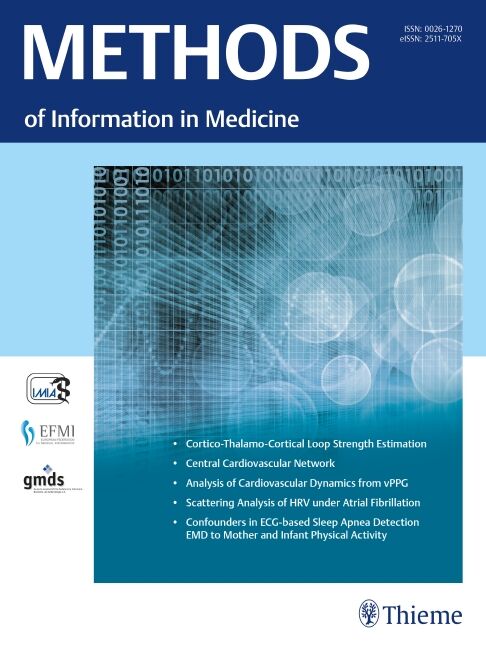 Methods of Information in Medicine
ISSN:

0026-1270

Medientyp:

Fachzeitschriften

Ausgaben:

6 pro Jahr

Sprache:

Englisch

Volume:

62
Produktinformationen Methods of Information in Medicine
Subscribe today and receive up to 20% off your first year's subscription! Personal subscriptions only.
Methods of Information in Medicine publishes international, peer-reviewed, original research articles, reviews, editorials, and letters to the editor. Founded in 1962, it is the oldest and longest running journal in its field. The focus of the journal is on methods in health informatics, including public health and consumer informatics. We welcome submissions describing novel scientific methods for structuring, integrating, analysing, storing and visualising information as well as methods for system design, implementation and evaluation.

The methods presented should address a clear clinical, public health or patient need and may be rooted in a number of different fields such as ontologies and knowledge modelling, natural language processing, statistics, design science, machine learning and artificial intelligence, multimodal data integration, standardisation, implementation science, and evaluation. Possible application areas include any areas of health informatics such as information systems and services, clinical decision support, consumer health and patient e-services, disease surveillance, and information systems infrastructures in low resource settings.

Click here to read the Editor's Editorial on the journal's focus

Submissions regarding bioinformatics, image- and signal processing, medical decision-making theory and pure epidemiologic studies will be excluded as there are other, more suitable, venues for publication of these.

IMPACT FACTOR 2021: 1.8
Abstracting and indexing:
Current Contents/Clinical Medicine, SciSearch, Research Alert, Science Citation Index, Science Citation Index Expanded, Index Medicus/Medline, EMCARE, SCOPUS, CNKI Scholar, EMBASE/Excerpta Medica, EBSCO, ProQuest

Individual Rates: Personal subscription orders can only be placed by individuals and must include the recipient's name and personal address. Must be for individual use only and paid for by personal funds of the individual. Only qualified professionals are eligible for individual subscriptions.
For institutional subscriptions, please contact Institutional Sales for pricing at:
In US, Canada, South and Central America, please contact esales@thieme.com.
In Europe, Asia, Africa and Australia, please contact eproducts@thieme.de.
Please read our complete Terms of Trade for journal subscription policies.
Journal subscribers will receive a separate invoice and confirmation for your subscription order with taxes broken down separately as applicable and appropriate for your region.