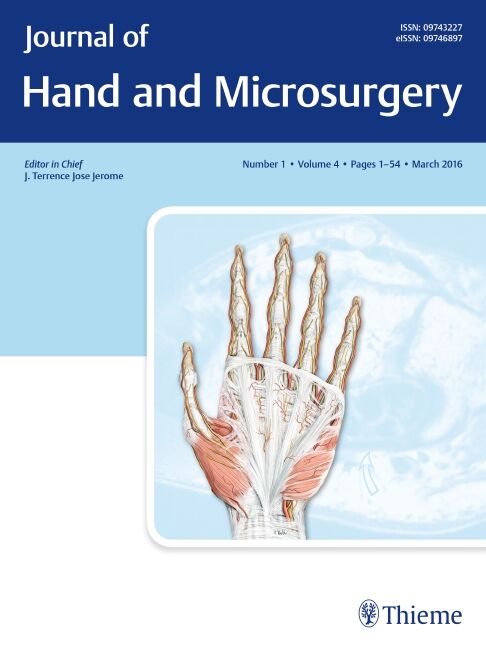 Journal of Hand and Microsurgery
ISSN:

0974-3227

Medientyp:

Fachzeitschriften

Ausgaben:

5 pro Jahr

Sprache:

Englisch

Volume:

15
Produktinformationen Journal of Hand and Microsurgery
Subscribe today and receive up to 20% off your first year's subscription! Applies for Individuals only.
Journal of Hand and Microsurgery (JHAM) is the official journal of the Society of Indian Hand and Microsurgeons. JHAM's mission is to advance the medical science and practice of hand and reconstructive microsurgery through education, research and advocacy on behalf of patients and practitioners.
The journal welcomes submissions from authors across the world. Original and review articles, point of technique articles, and case reports related to the understanding of diseases, diagnosis, and management of the upper extremity disorders, brachial plexus injuries, congenital hand problems, hand trauma, fractures, tumors, burns and reconstructive microsurgery would be considered for publication. The journal rigorously follows double-blinded peer review of the submitted articles and the selection of the articles is based on the reviewer's evaluation of the academic merit of the presented clinical content.
The journal is available online and in print. Articles published ahead of print are available worldwide via Thieme-Connect - the Thieme E-Journals platform.

JHAM requires that authors follow the ICMJE (International Committee of Medical Journal Editors) recommendations for the Conduct, Reporting, Editing, and Publication of Scholarly work in Medical Journals. More information can be found here: http://www.icmje.org
Abstracting and indexing:
PubMedCentral (PMC), Emerging Sources Citation Index (ESCI), Scopus, Google Scholar, Academic OneFile, Expanded Academic, OCLC, SCImago, Summon by ProQuest, EBSCO, ProQuest
Click here for the journal's Ethic Statement.

Individual Rates: Personal subscription orders can only be placed by individuals and must include the recipient's name and personal address. Must be for individual use only and paid for by personal funds of the individual. Only qualified professionals and students are eligible for individual subscriptions.
For institutional subscriptions, please contact Institutional Sales for pricing at:
In US, Canada, South and Central America, please contact esales@thieme.com.
In Europe, Asia, Africa and Australia, please contact eproducts@thieme.de.
Please read our complete Terms of Trade for journal subscription policies.
Journal subscribers will receive a separate invoice and confirmation for your subscription order with taxes broken down separately as applicable and appropriate for your region.