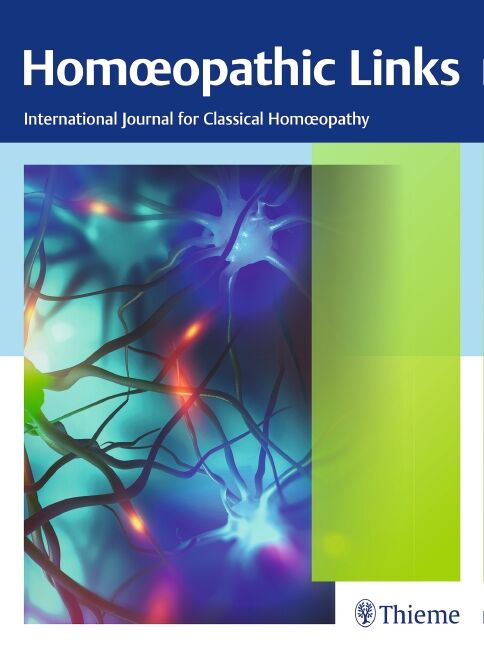 Homœopathic Links
ISSN:

1019-2050

Medientyp:

Fachzeitschriften

Ausgaben:

4 pro Jahr

Sprache:

Englisch

Volume:

36
Produktinformationen Homœopathic Links
Subscribe today and receive up to 20% off your first year's subscription! Applies for Individuals only.

Since its establishment in 1987, Homœopathic Links has become an important and respected publication in the world of alternative medicine. Today it connects homeopaths in more than 50 countries and promotes exchange between the different directions and philosophies of homeopathy and naturopathy.
The editorial board includes several experienced and dedicated homeopaths. Their careful selection of articles ensures the perfect balance of practice-oriented topics, and philosophical and historical contemplations for all readers.
Homœopathic Links is dedicated to Link different homeopathic schools and philosophies around the globe. It promotes the art and science of homeopathy by publishing cutting edge articles on cases, materia medica, provings, clinical tips, education, history, politics and philosophy. It also includes interviews, book reviews, seminar reports and up to date lists of upcoming seminars and educational events.
Abstracting and indexing:
EBSCO, ProQuest

Individual Rates: Personal subscription orders can only be placed by individuals and must include the recipient's name and personal address. Must be for individual use only and paid for by personal funds of the individual. Only qualified professionals are eligible for individual subscriptions.
For institutional subscriptions, please contact Institutional Sales for pricing at:
In US, Canada, South and Central America, please contact esales@thieme.com.
In Europe, Asia, Africa and Australia, please contact eproducts@thieme.de.
Please read our complete Terms of Trade for journal subscription policies.
Journal subscribers will receive a separate invoice and confirmation for your subscription order with taxes broken down separately as applicable and appropriate for your region.