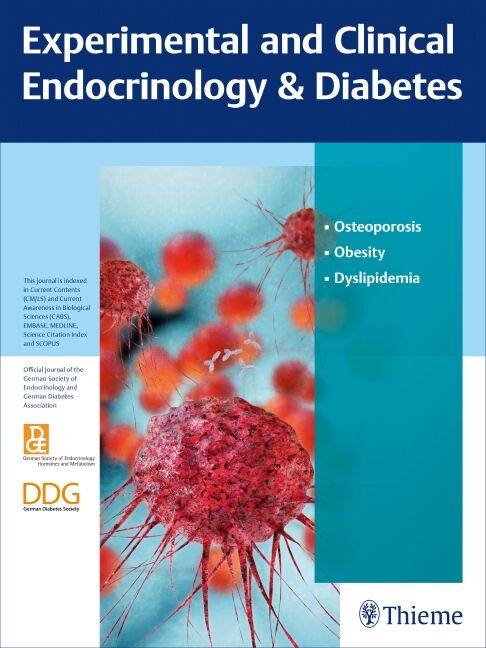 Experimental and Clinical Endocrinology & Diabetes
ISSN:

0947-7349

Medientyp:

Fachzeitschriften

Ausgaben:

12 pro Jahr

Sprache:

Englisch

Volume:

131
Produktinformationen Experimental and Clinical Endocrinology & Diabetes
Subscribe today and receive 20% off your first year's subscription! Applies for Individuals only.
Publishing outstanding articles from all fields of endocrinology and diabetology, from molecular biology to clinical research, this journal is a brilliant resource. Since being published in English in 1983, the popularity of this journal has grown steadily, reflecting the importance of this publication within its field.

From molecular biology to clinical research, Experimental and Clinical Endocrinology & Diabetes covers all aspects of these fields. Original contributions and commentaries appear in each issue along with reviews addressing current topics.
Most Innovative Paper Award
We are delighted to announce that we will again officially award the most innovative paper submitted to Experimental and Clinical Endocrinology & Diabetes. Learn more.

IMPACT FACTOR 2021: 2.426

Abstracting and indexing:
Current Contents (CM/LS), and Current Awareness in Biological Sciences (CABS), EMBASE, MEDLINE, Science Citation Index, SCOPUS, EBSCO, ProQuest



Individual Rates: Personal subscription orders can only be placed by individuals and must include the recipient's name and personal address. Must be for individual use only and paid for by personal funds of the individual. Only qualified professionals and students are eligible for individual subscriptions.
For institutional subscriptions, please contact Institutional Sales for pricing at:
In US, Canada, South and Central America, please contact esales@thieme.com.
In Europe, Asia, Africa and Australia, please contact eproducts@thieme.de.
Please read our complete Terms of Trade for journal subscription policies.
Journal subscribers will receive a separate invoice and confirmation for your subscription order with taxes broken down separately as applicable and appropriate for your region.