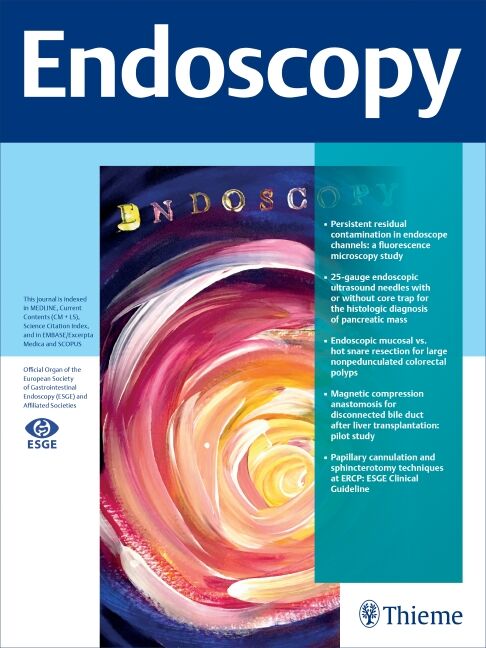 Endoscopy
ISSN:

0013-726X

Medientyp:

Fachzeitschriften

Ausgaben:

12 pro Jahr

Sprache:

Englisch

Volume:

55
Produktinformationen Endoscopy
Subscribe today and receive up to 20% off your first year's subscription! Applies for Individuals only.

Endoscopy is the premier journal for information on the latest technologies and international developments in gastrointestinal endoscopy.
Under the expert direction of an international editorial board, this journal presents highquality content that addresses the needs of endoscopists, surgeons, clinicians, and researchers across the globe.

Publishing 12 issues each year, Endoscopy features topquality review articles, original contributions, prospective studies, valuable surveys of diagnostic and therapeutic advances, and indepth coverage of the most important national and international meetings.
Articles are frequently supplemented with online video content. Readers also benefit from the annually published Endoscopy Essentials, a complete review of the most important literature concerning the major topics in diagnostic and therapeutic endoscopy from the previous year.

All articles published in Endoscopy undergo rigorous peer review. With webbased manuscript submission and expedited turnaround, rapid electronic and print publication is guaranteed.
Members of the following groups and associations are automatically subscribed to this journal:
European Society of Gastrointestinal Endoscopy (ESGE) and Affiliated Societies.
Click here to visit the Endoscopy website

Abstracting and indexing:
MEDLINE, Current Contents (CM + LS), Science Citation Index, and in EMBASE/Excerpta Medica, SCOPUS, EBSCO, ProQuest
Individual Rates: Personal subscription orders can only be placed by individuals and must include the recipient's name and personal address. Must be for individual use only and paid for by personal funds of the individual. Only qualified professionals and students are eligible for individual subscriptions.
For institutional subscriptions, please contact Institutional Sales for pricing at:
In US, Canada, South and Central America, please contact esales@thieme.com.
In Europe, Asia, Africa and Australia, please contact eproducts@thieme.de.
Please read our complete Terms of Trade for journal subscription policies.
Journal subscribers will receive a separate invoice and confirmation for your subscription order with taxes broken down separately as applicable and appropriate for your region.
Table of Contents:
https://www.thieme-connect.com/products/ejournals/journal/10.1055/s-00000012