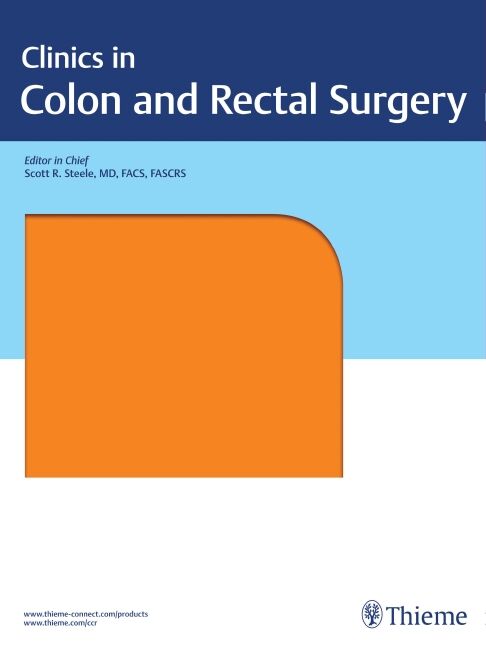 Clinics in Colon and Rectal Surgery
ISSN:

1531-0043

Medientyp:

Fachzeitschriften

Ausgaben:

6 pro Jahr

Sprache:

Englisch

Vol.:

36
Produktinformationen Clinics in Colon and Rectal Surgery
Subscribe today and receive 20% off your first year's subscription! Applies for Individuals only.
Clinics in Colon and Rectal Surgery is a review journal that publishes topic-specific issues on diseases of the small bowel, colon, rectum, and anus.

Designed for clinicians, researchers, and educators involved with diseases of the intestinal tract, the journal covers a broad spectrum of basic information, controversial clinical issues, and established and innovative diagnostic techniques.
Issue topics comprehensively cover the entire specialty over a 3-4 year period, allowing the articles to serve as study material for educational programs and certifying examinations. The inclusion of research and clinical material also allows physicians to remain knowledgeable of current advances in the specialty.

IMPACT FACTOR 2021: 2.403

Abstracting and indexing:
Science Citation Index Expanded (Sci Search), Journal Citation Reports/Science Edition (JCR), PubMed Central (PMC), SCOPUS, Emerging Sources Citation Index (ESCI), EBSCO, ProQuest

Individual Rates: Personal subscription orders can only be placed by individuals and must include the recipient's name and personal address. Must be for individual use only and paid for by personal funds of the individual. Only qualified professionals and students are eligible for individual subscriptions.
For institutional subscriptions, please contact Institutional Sales for pricing at:
In US, Canada, South and Central America, please contact esales@thieme.com.
In Europe, Asia, Africa and Australia, please contact eproducts@thieme.de.
Please read our complete Terms of Trade for journal subscription policies.
Journal subscribers will receive a separate invoice and confirmation for your subscription order with taxes broken down separately as applicable and appropriate for your region.